The coat of arms of the Helpers of the Queen of the Rosary Foundation on the one hand refers to the statutory objectives of the Foundation, on the other hand contains a spiritual program that the Foundation wants to pursue.
We can read the arms directly: if we combine the hand outstretched in a gesture of support, the crown of Mary, the Holy Rosary and the shining star in a string of meaning, we will simply associate it with the name of the foundation: "Helpers of the Queen of the Holy Rosary". However, our coat of arms has also a deeper message.
In the upper left of the shield we can see the hand outstretched as if from the sky, showing that we all need God's help. It reminds us of the words of Scripture: "Without me you can do nothing." With God's help, obtaining the necessary graces ourself and participating in the work of Salvation, we would like to do works of mercy for our beloved brothers and sisters.
The hand points to a cross through which leads the road of all of us, but also at the seven-pointed star which hides two symbols behind. – First of all, it is a sign of Mary standing beneath the cross of Salvation. Also seven points of the star refer to the seven major virtues (chastity, temperance, charity, diligence, patience, kindness, humility), which sanctify human life, and which we want to cultivate implementing set aims.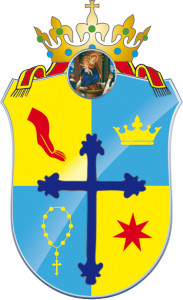 One of the ways to achieve them is the Rosary, shown on the bottom left of of the shield. It is a sign chronologically younger than the star, which indicates that it is through the Holy Rosary we strive to achieve the virtues. And it results in sanctification, which symbolizes the crown of glory in the upper right field. The crown is like the crowning or culmination of human virtue.
The horizontal axis of the coat of arms is divided into heaven and earth, and the cross binds them in its center. The colors of the coat of arms refer to the color of the flag of the Vatican and the blue of Mary. They point out that the Foundation carries out its activities in relation to the Catholic faith and devotion to Our Lady.
The sign of the Foundation is a coat of arms surmounted by a crown. Its shield refers to self-defense, and the crown to the winning glory that will come through Mary at the end of times. Under the crown we can see well-known theme of the image of the Queen of the Rosary from Pompeii, Mary and baby Jesus handing rosaries out to St. Dominic and St. Catherine of Siena.