Modern times do not save anyone. Also we, the editors of the "Queen of the Holy Rosary" quarterly, are grappling with problems. Specific troublesome is the problem of unpaid debts. One of our debtor was unable to pay for the taken books or to give them back, because he has already sold them. The total amount of his debt was of consideragle height. Under the settlement he proposed taking individual copies of other Catholic books that he had in stock. We would have to sell them at our own risk, which placed us in a difficult situation…
Then Mr. Robert from Poznan – Subscriber of our quarterly – came to our rescue. He offered to buy back 320 books and thus recover the debt of our creditor. The books would be then take as a gift to local prisons. Their subject matter is very rich: they are the titles of repentance, forgiveness, repairing relationships in the family, starting with addictions and sects. We tried to find such titles that are able to bring the imprisoned the most spiritual aid.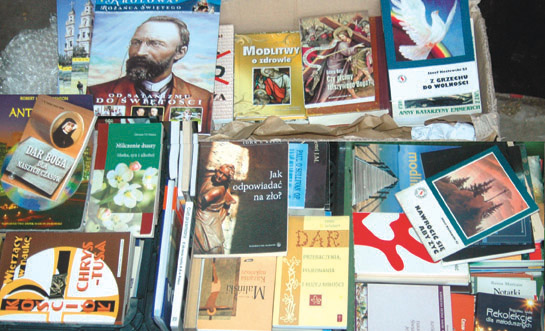 The Rosemaria Publishing House sent the chosen books to fraternities prisons, adding some copies of the "Queen of the Holy Rosary" and the support materials, mainly addiction-related, received in spiritual center in Lichen. Mr. Robert, benefactor benefactor of both the publishing house and the prisoners, stretched out many times a helping hand also to former prisoners, including the help in recovery from alcohol addiction. Blessed Bartolo Longo in his writings drew attention to the fact that, one should act according to the Gospel also with the prisoners. A beautiful gesture and an example of Mr. Robert can be an inspiration for all of us to deal with these people, so often rejected by the public opinion and their surrounding. Let's command in prayer to Our Lady of Pompeii and to the Blessed Bartolo Longo Mr. Robert and his family. God bless you, Mr. Robert!