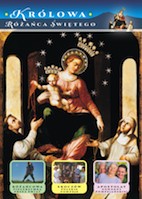 The first issue of "Krolowa Rozanca Swietego" (The Queen of the Holy Rosary Quarterly) was published in February 2012, and most of the copies has been distributed free of charge to readers of the websites www.pompejanska.rosemaria.pl and www.zywyrozaniec.pl and other individuals and institutions at the expense of the Founder. Thanks to the high interest of our readers the next issues appear in print format at three-month intervals.
Due to rapid exhaustion of the magazine's first issue, it has been reprinted. Total circulation of this issue was about 7,500 copies 20 pages each. The next issues counted an average of 4000-4500 copies per issue, and the number of pages in the newest editions achieved 32.
The magazine's price stands at 3,50-3,70 PLN, depending on the volume/weight, which calculates the shipping time and cost. This is a minimum price, allowing  to keep the circulation of the magazine without paying royalties, the cost of the corrections, composition etc. All work takes place based on resources of the Rosemaria Publishing House in exchange for 1-1,5-page advertisement.